Improving Support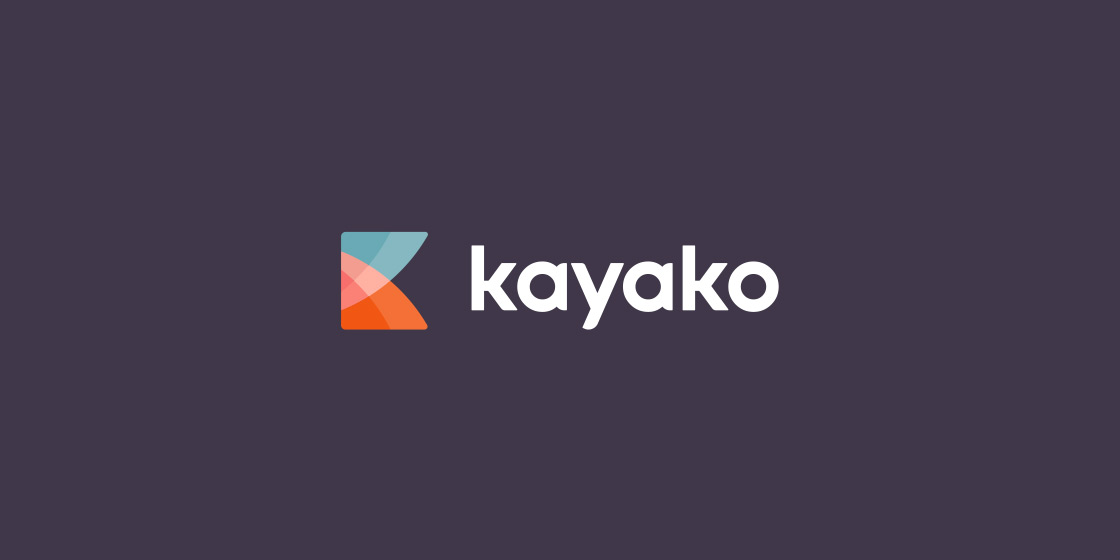 ---
Today I wanted to take a few paragraphs to tell you about some upcoming changes to our support practices so you react to them with whatever emotion feels most appropriate. We hope it's 😍 or 😘 . Or maybe the blushing face one. We like that emoji a lot too.
Our Support Process is Broken
Right now our support "system" is broken. Sure, you can get great, personal support from us, quickly and sometimes even in real time (on Slack), but "broken" can mean many things. And let me tell you, if we do this right, not only will you get better answers from us and the community, but Statamic will be a better product. Let me explain what I mean.
The Slack Support Experience
Slack is awesome. Slack is awful. Both of these statements are undeniably true, depending on your perspective. Here's a common enough scenario:
---
Jean Ralphio is building a site and runs into an error message he don't understand. He takes a screenshot of the error, pops open Slack, jumps into the #support-v2 channel and uploads the image. Friendly @emd asks him for more details, I suggest clearing his cache, and @jason asks for some detail from the logs. A few minutes and few suggestions later he has a definitive answer on how to correct his template and he's back in business. That's an awesome experience. For Jean Ralphio.
---
Here's the otherside of that story:
---
I was helping Ron debug something else more complicated with a lot of template code involved, and all of a sudden that conversation got hijacked. Jean Ralphio's issue was pretty easy to answer, so we helped out right away so everyone could move along with their day and we could get back to Ron's tougher issue at hand. Ron got frustrated so he went back to trying to fix it himself, and after an hour he comes back to Slack for more help and waits patiently for another conversation to end before jumping in. It doesn't arrive, so he DMs @jason and asks for help. But @jason is away from his desk boarding up his shutters for an incoming hurricane. Ron thinks @jason is ignoring him, and goes back to trying to fix it himself again. But the problem is, he's hit a real bug, and does need our help to get out of his pickle.
Later, Tom comes along with the same exact issue that Jean Ralphio ran into, but because there's so much going on in Slack he doesn't search for the issue (which was in a screenshot anyway) and so we start the whole story over again, except a little less friendly because we're frustrated we just went through this 2 hours ago. Rinse and repeat.
---
You get the picture, right? Meanwhile, we've only been able to help 3 people, and anyone else with those same issues won't benefit from the valuable exchanges. Ultimately the most important thing is to resolve issues quickly and efficiently, regardless of where the answer comes from.
When Slack Fails, it Fails Hard
Slack is fantastic at triaging an issue in the moment, but only for one person at a time, with no lasting benefit for those come along later.
To be fair, if you visit https://statamic.com/support you'll see Slack is not an official support channel, and if you're in Slack you'll see the support room description says "unofficial support". However, we set enough of a precedent by favoring the medium regardless that the words don't mean anything, and there is very little activity in the Lodge or via email. Support has become 95% Slack. And it's become unsustainable.
It's also worth mentioning that only 10% of our community is on Slack. Some people just plain don't like it. And while I love what it does do well, I also understand that perspective.
Our Goals for Next Phase
If people won't use the forum, and we can't make Slack support sustainable, what then? What then indeed!
I took time to identify my top priorities with a redesigned support experience. There are a lot of small things I want, but here are the top 3:
1. Support cannot be real-time.
Offering realtime support with a team of 3 people, all of whom work on the product itself, is a false promise. A dream. We even had live a Intercom chat on our site for a few months. Support exchanges would often take 20-30 minutes of back and forth waiting for each other to respond to even get to the beginning of an real question, teasing out little details at a time.
2. Answers must become resources to other users.
Answers to common issues must be found easily if they can't be designed around with better help messages, docs, and UX design. "How do I reset my admin password?" is one such example.
3. We must provide transparency with the customer.
Once an "official" support request has been submitted, customers need to know that we received it and have realistic expectations set regarding how long it will take for a response. If it's 2am EST on a Saturday, it's going to be a day and a half at least. There's no way around that.
We've used poorly suited tools in the past (GrooveHQ and more recently, Intercom), but we're going to get it right this time around.
Next Phase Plan
Okay, it's more than just a plan, we're just about ready to launch all this. But before we do, here's what's going to happen. We don't want to blind-side anybody.
New Self-Segmenting Support Page
We've designed a new landing page for All Things Support™ that helps to funnel you to the best channel and medium for your particular type of question or issue. We'll take the chance to suggest some existing knowledge base articles along the way. It doesn't hurt.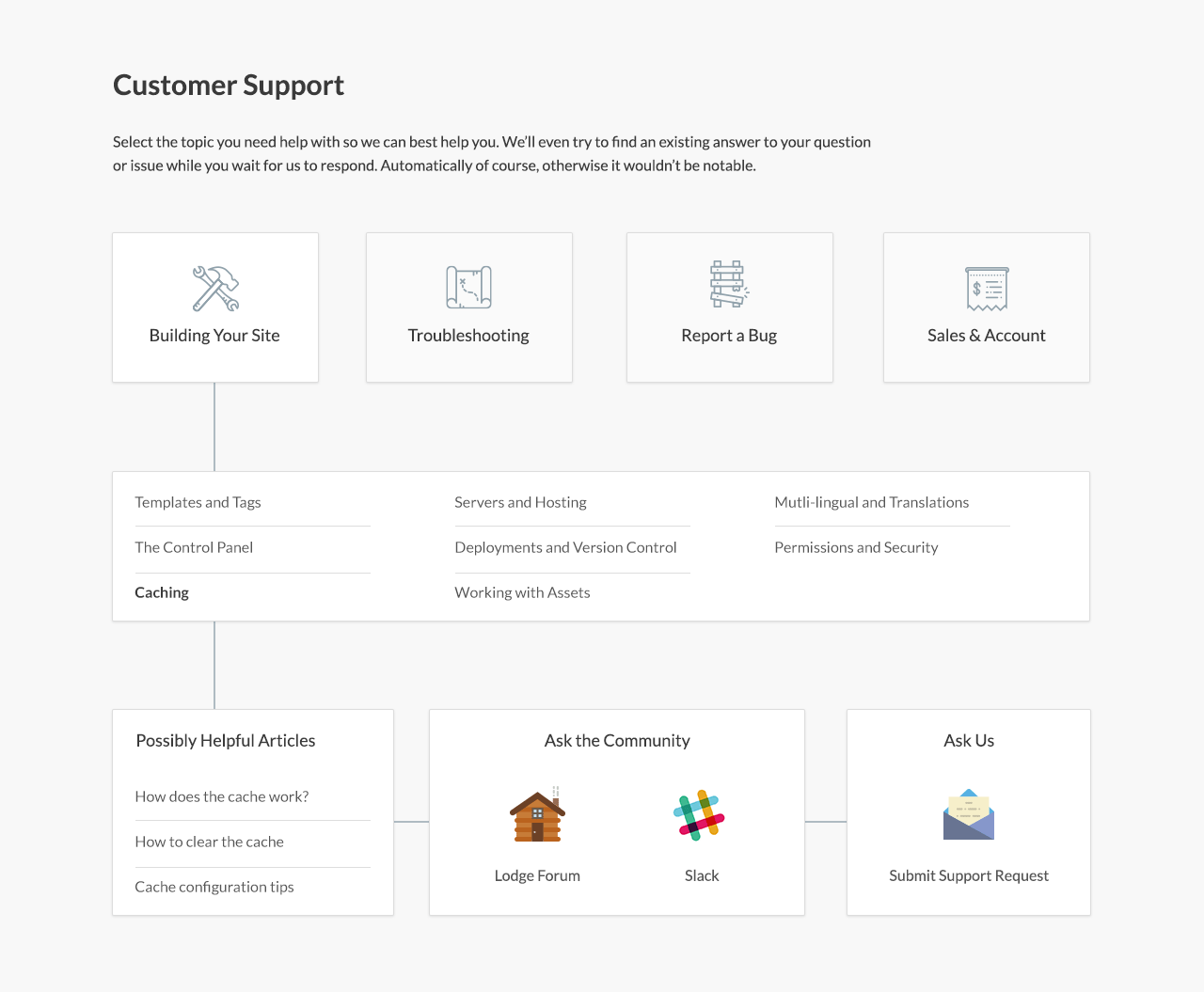 Support isn't forever
Buying a license currently entitles you to support for 12 months. We don't have way to enforce that right now, but our new platform will make that easier to accomplish. We'll also be reducing that time period on new licenses to 3 months, which we feel like is still a generous period for lifecycle of an average site in development.
Statamic Unlimited will have ongoing, non-expiring access to support, in addition to some new team-driven features. It's going to make life easier for everyone.
We'll Be Using Kayako
Official support will happen through Kayako. It has a great system for keeping track of open cases with routing rules, priorities, automatic escalation, SLA enforcement, all sorts of goodies. I've spent the last 2 weeks trying everything. Trust me. If it's out there, I've spent at least an hour in it. I'll write another article on why I chose Kayako specifically, but 2nd place (Desk.com) wasn't even close. We've already canceled Intercom, and are using Kayako already. So if you email us at gentlemen@statamic.com, it'll happen through there.
Kayako has the transparency we like. Email auto response, office hours rules, an optional customer portal that will let you see all your previous support requests, a robust API for us to work with, you name it. We're excited to put it through the paces and fine-tune our workflow.
Scheduled Slack Chats
If you're still reading, you saw this coming. Slack support via @jason, @jaggy, and myself is about to come to an end. We'll all be better for it, trust me. We'll be renaming the support-v1 and support-v2 channels to simply statamic-v1 and statamic-v2 to reduce the implication of official support happening there.
We'll also set up a weekly time to have a Statamic Chat about what's new, improved, coming soon, what we can do better, and so on. We'll need to leave support questions out of it to avoid having the conversation hijacked, but it'll be a good time. We'll post more info when make some date and time decisions.
We love that you help each other out as a community as much as you do! Please continue that! But also feel free to point people towards our support portal. And please refrain from DMing and @ name pinging us for support unless it's an emergency.
We will still be in Slack often I'm sure, but socially, rather than in a support capacity.
Changes to the Lodge
We also want to improve the Lodge to make it more enjoyable, more useful, and even simpler. These changes won't be ready to roll out with the previous updates, but we'll be unifying the multi-room organization it into a single stream, add tagging, and working some other UX improvements. Low hanging fruit is delicious.
TL;DR
Getting great support from us will require a little extra work and a few more clicks from you first, but we'll all be better for it in the long run. That's pretty much the sum of it!
We love you. Always.
✨♥️✨