Explore some of the many Statamic 2 Features
A Responsive Control Panel Designed for Everyone
Drag and Drop Pages
Create pages, reorganize your navigation, and preview URL structures with a nothing more than a few clicks.
One Click Updates
Check out the changelog, backup, and update Statamic 2 all without ever leaving the Control Panel.
Manipulate Images
Set image sizes, titles, custom fields, and even set focal point crop points used anywhere in the site. It's fun and fancy.
Global Content
Create and manage global content with the help of any of our Fieldtypes. There is a home for everything.
Many Editor Choices
Write in Markdown with our custom editor or using a WYSIWYG like Redactor II, either way you're comfy.
Form Responses & Metrics
Manage all of your site's forms in once place. Create new forms, browse responses, metrics, and export data.
Fieldset Builder
You don't need to be a developer to configure your content fields. Explore and experiment with everything.
Fine-Grained Permissions
Configure permissions on a Role and Group level to protect and simplify their management experience.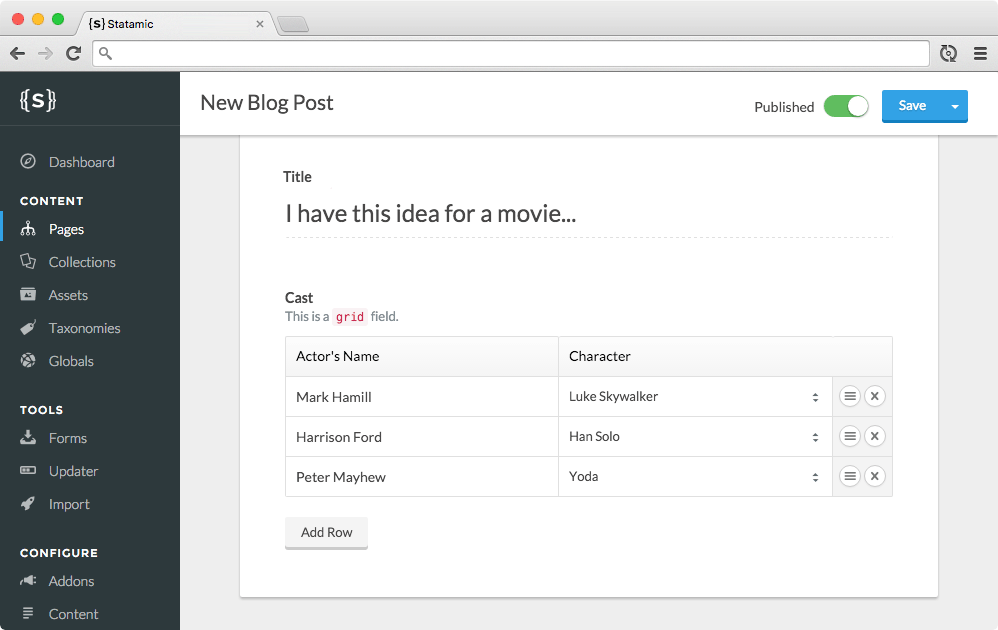 Separate content from presentation We Love Content
Six Content Types
Build your site with Pages, Entries, Globals, Assets, Taxonomies, and Users, each with unlimited fieldsets.
Live Preview
Preview any changes to your site in real time as you edit. Like what you see? Publish it. Or simply save a draft.
True Relationships
Relational Fieldtypes, Taxonomies, Tags, and universal IDs enable you organize, connect, and display content your way.
Lots 'O Fieldtypes
We have 35 unique fieldtypes from toggles to Grids, allowing you to model content any way you want.
<3 Markdown
We love everything about Markdown and we have the fieldtypes, cheatsheets, and template helpers to prove it.
Reusable Fieldsets
Mix, match, and group fieldtypes to create Fieldsets that can turn into blogs, galleries, events, you name it.
Multilingual (i18n)
Build your site in your own language & serve your users content in their own. Everything you need is built right in.
Build Your Own Taxonomies
You're free to be your semantic self. Create categories, tags, or even flavors, each with it's own custom data.
Tools, Features, and an API Built for Developers
Built on Laravel
Extend Statamic with the full power of Laravel, or even integrate Statamic into your own Laravel projects. Win/win.
Version Control Everything
Everything, from content to config, can be version controlled. Hello there, peace of mind. How've you been?
Bring your own HTML
Statamic makes no assumptions of your markup. Bring your design, build your way, and we stay out of the way.
Antlers
Our template language is designed to give you maximum control over your markup without having to write PHP.
Image Manipulation
Manipulate your images on the fly with more than query strings. Resize, crop, blur, sharpen, pixelate, and more.
Flexible Routes
Take advantage of flexible routing rules to support just about any URL structures you can imagine.
To CP or not CP?
Everything can be accomplished with or without the use of the Control Panel. Don't like clicking? We got your back.
Command Line Tools
Generate theme files, addons, clear caches, or get your daily dose of Chuck Norris jokes like it's 2004 again.